A

n

d

r

e

W

a

g

n

e

r
Originally from Omaha, Nebraska, Andre D. Wagner is a photographer living and working in Brooklyn. In 2010, he received a BFA from Buena Vista University where he studied social work and digital media. Andre now focuses on his passion, street and documentary-style photography, and aims to capture the human condition while recording everyday life.
Editor's note: This is a print-only feature, originally published in The Great Discontent, Issue Three. To read the interview in its entirety, pick up the print magazine in our online shop.
Describe your path to becoming a photographer.
I grew up in Omaha, Nebraska, and then went to Iowa for college. I was interested in social work, but my main focus was playing professional basketball. I had played basketball my whole life and received a partial scholarship for it.
When did you decide to stop pursuing basketball professionally?
Trying to play professional basketball is such a hard thing to do. I was playing Division III basketball, so I wasn't at a super high level. Once I started trying out and seeing other athletes from around the world who had been trying to play professionally for years, I thought, "Oh, shit." I tried out for the Iowa Energy, a D league team, and thought about getting an agent or trying to play overseas and move up from there, but it all fell apart. It was a lot to think about because I was the first person in my family to go to college. I liked social work and working with kids, but I had always imagined myself playing basketball. Basketball had been such a huge part of my life that it left a void once I stopped pursuing it professionally. That's when I picked up a camera. I was just trying to find something to do with my time.
Was there an "Aha!" moment when you realized you could or wanted to seriously pursue photography?
With basketball, I was married to a process: I worked out, traveled, went to the gym all the time, and played a game, which was like a performance piece. I was so used to being busy all the time and photography went hand-in-hand with that lifestyle. Once I was in New York, I started meeting more creatives and people with jobs that I didn't even know existed. I thought, "Oh, shit! People are making a living doing this?" That's when I started taking photography more seriously and realized that it could be more than a hobby.
During the summer break after my first year as a graduate student at Fordham, I got a job at fab.com. I was working in their photo studio, and I knew I wanted to take photography more seriously because it started to feel like there was something good happening. That's when I decided not to go back to school. I thought I'd stick with social work, but once I got into photography I realized that I could use my foundation in social work within photography, and that became appealing to me.
***
You develop all of your own film and are sometimes backlogged several months. Is there a reason you choose to do it all yourself?
Yeah. Part of it is because the process of shooting analog and looking back through old contact sheets is like reliving the moment the photo was taken in. It's not like a digital camera, where you have an image right there. Spending a little bit more time means that it's easier for me to select compelling images. For instance, if I shoot a roll today, develop it, and look at the images right away, then I'll think, "All these images look great," when most of them don't actually look good. I try to be hard on myself while I'm editing because I shoot a lot, and if I don't edit the work properly, then the quality and voice of it gets lost.
I'm interested in so much when I'm shooting because New York is so stimulating. This city is full of different cultures and languages, the unique ways people look and dress, structures, transportation, street life. I think about so much, and that's how I shoot; I don't count anything out. But when I go back and edit I try to narrow my focus. I ask myself, "Am I going to curate a show or a book, or am I trying to tell a specific story?" Once I decide on my focus, I look at my images with that in mind. I might think about that focus when I'm shooting if I'm working on a specific project, but in the day-to-day I shoot whatever catches my eye.
As a photographer, I've dedicated myself to noticing what everybody else is missing. I show people what the world actually looks like. Street photography is so special because it's about capturing everyday moments. It's not produced. It's not like I'm creating movie scenes or anything—I'm literally out reacting to the world. There is so much importance to that, and I enjoy taking pictures that way.
***
What advice would you give to a young person starting out?
Shoot and have fun. That's how I started. I wasn't always doing this—it took time to evolve. I was having fun and eventually started doing what I consider to be "real" work.
If you can't have fun, then you won't ever have what it takes to put in the work. Sometimes people ask me how many hours I work each day, but I believe that if you truly love what you're doing, then you're not going to be counting hours. There are times when I spend all day shooting, and sometimes I pull all-nighters printing in the darkroom. I never think about counting the hours I shoot or counting down the hours until I can end—I just do it because I love it. I tell people to love what they do and it'll figure itself out.

Enjoy this excerpt? Read the entire interview in The Great Discontent, Issue Three, available in our online shop.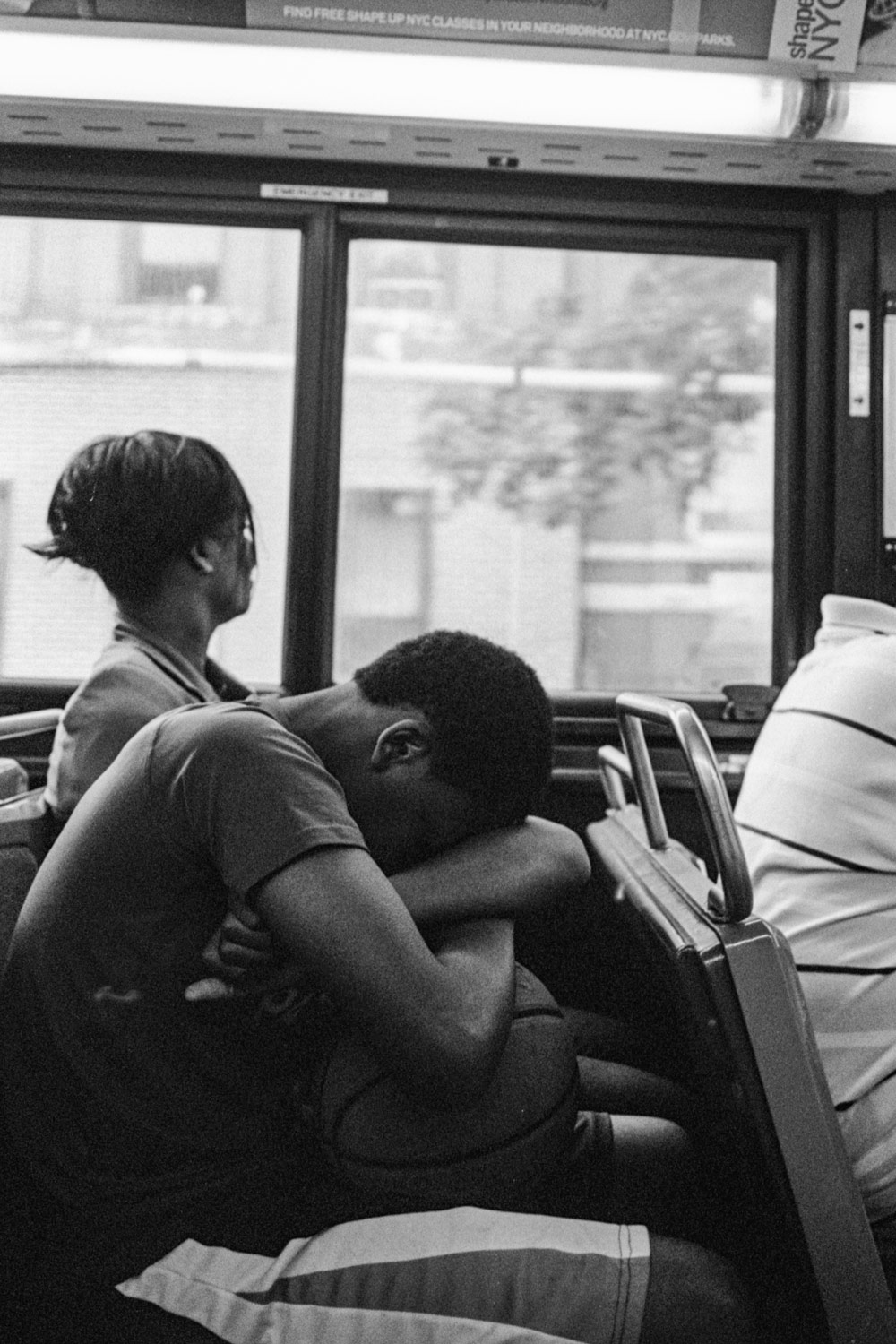 "…I've dedicated myself to noticing what everybody else is missing. I show people what the world actually looks like."