Dean Bradshaw is an Australian-born, LA-based director and photographer. He works in the physical and digital worlds and is equally as comfortable on complex studio sets as he is the digital darkroom. Prior to photography, Dean gained extensive experience retouching and compositing and worked as a field biologist after studying zoology in college. Dean has a studio in Venice, CA, and whether there or on the road, he is always looking for new stories to tell and new ways to tell them.
Interview
Describe your path to what you're doing now.
I'll start at the beginning. My parents are South African, and I was born in Johannesburg. We moved to Australia when I was 3 years old, and I grew up in Perth. Growing up, there were two sides to me: an art student and a science student. I was the "fine arts" kid who did oil painting throughout school, but I was also really interested in reptiles, of all things. I spent a lot of time going out into the wilderness and catching lizards and snakes and studying ecology and the wildlife of Australia.
After high school, I initially wanted to be a lawyer. I went straight into law school at university, which is allowed in Australia, but after a day, I thought, "Nope, that's not for me." As I mentioned, I was into reptiles and had gotten interested in zoology during high school, so I decided to study that instead.
In university, I was good enough at identifying animals in the field that I was offered a job as a field biologist. During my first two years of university, I was in attendance, but during the third and fourth years, I mostly did my assignments while working out in the field. In Australia, we have a very strict Environment Protection Authority and the mining industry is a very big thing. Before a new mine is built, the area has to be searched to identify if there are any threatened or endangered species. Teams are sent out to find and identify animals, and that's what I did; I'd go out with a team on two-week survey trips into very remote areas, either camping or staying on mine sites.
I had been given a camera when I was 18 and when I was out in the field, I started taking photos as a way to document my work. The more I travelled for work, the more interested I became in photographing places and people as well. My zoology career afforded me the money to buy camera equipment and properly get into what I was doing. Then I started to do small articles for travel magazines and, eventually, I had the opportunity to come out to America and work as a retoucher, which I did for a year and a half before making the transition to focus on my own career again. Now, I'm here.
Field biology and photography are two seemingly unrelated careers. How did you transition from the former to the latter?
(laughing) Yeah, it's funny in retrospect. It started with taking photos of the animals I was finding. We'd go on long field trips and travel to these really beautiful places in the remote outback of Western Australia. As a result, I got into lighting because macro photography requires specialized lighting to make it look interesting. Then I started putting my images on Flickr, and that's where it all began. I started taking more photos of the places we travelled to and the people in them. Someone on Flickr saw my work and invited me to become part of a small photo agency of photojournalists and travel photographers, which gave me the opportunity and reason to travel more. I went to Borneo, Africa, Thailand, Komodo Island and other exotic places, which I loved.
I continued to become more and more interested in photographing people and telling their stories. I also became fascinated with manipulating my images in Photoshop. My artistic side kicked in and beyond simply documenting, I wanted to make them the most beautiful pictures possible. I read every blog and book on photography that I could find. Luckily, there were so many resources online to learn from. I've never been formally trained—I just became obsessed with photography.
So, you started getting paid photography work?
Yeah. I was doing small paid assignments that covered the cost of the trips I took, but I didn't make much money. My predominant income was from being a freelance zoologist. Because I was in my early 20s and living at home, that allowed me to make a decent income, which afforded me the ability to buy all the equipment I needed to make images. Once I had that, I started learning more and more about photography and lighting through personal projects and self-assigned work.
At what point did you move to the US?
I moved to San Diego, California, in 2009 when I had the opportunity to work as a retoucher. I did that job for about 18 months, but then decided that I didn't want to just do retouching; I wanted to focus on creating my own images. I started by doing small assignments for magazines, and now I primarily do advertising photography for brands. My wife and I moved to Los Angeles a little over a year ago and I now have a photography studio in Venice. My style is hyperrealistic and conceptual, which is conducive to advertising. Right now, the bulk of my career is based around commercial photography.
Did you have an "aha" moment along the way when you knew that photography was what you wanted to do?
I guess it was when I realized how much time I was spending obsessed with this hobby, but I never knew how far it could go. I was so interested in making my images better that, early on, I didn't think about the career part of it. I was fortunate enough to support this fascination with my career in zoology and I used every moment that I wasn't working to learn the craft. I had that great discontent thing—that dissatisfaction with my work. I took thousands and thousands of images and compared my work to that of photographers who I admired, asking myself what I needed to learn to make my work better. That never ends. You're always learning and trying to make your work better.
My parents always instilled in me the idea that I could do anything; my dad always told me, "You create your own destiny." I never thought about moving to America, but I try to take advantage of every opportunity, so when I had the chance to come here, I made it happen without hesitation. I wasn't sure if it would pan out, but it did.
As far as one moment, though, I don't know if there was one. I will say that I don't think I'd be here if it wasn't for the Internet, which allowed me to learn, share my images, and get noticed.
Have you had any mentors along the way?
I've met and worked with a few professional photographers who have helped me grow by offering advice or insight into the industry. There were also a lot of photographers who I followed online. I tried to seek out the people who were the best in the world, whose work would give me something to strive toward. In that way, I think the Internet was my mentor. There are all sorts of photographers who I've never met, but through their images, they have helped me learn.
Being a creative is not an established pathway, and it's a bit like walking along the edge of a knife. I support a studio and staff, but at the end of the day, I'm making pictures. There's a part of me that wants to say, "They're going to pull back the curtain at any moment!" It can be an insecure career. That's a byproduct of our culture, I suppose—the traditional "American Dream" concept of what a career should be. Creative careers don't always have the security and stability of a 9 to 5, but I wouldn't give it up for anything.
Tina: It can be scary, but the rewards are so much more fulfilling.
Exactly. We take these huge risks and try not to look over the side of the cliff. If we lean over, look, and see what's down there, it can be terrifying. As creatives, we become really good at convincing ourselves that everything is going to be fine, because we'll drive ourselves crazy if we think about it too much. There's an element of ignoring that fear, even while we know it's there, so that we can keep on the pathway.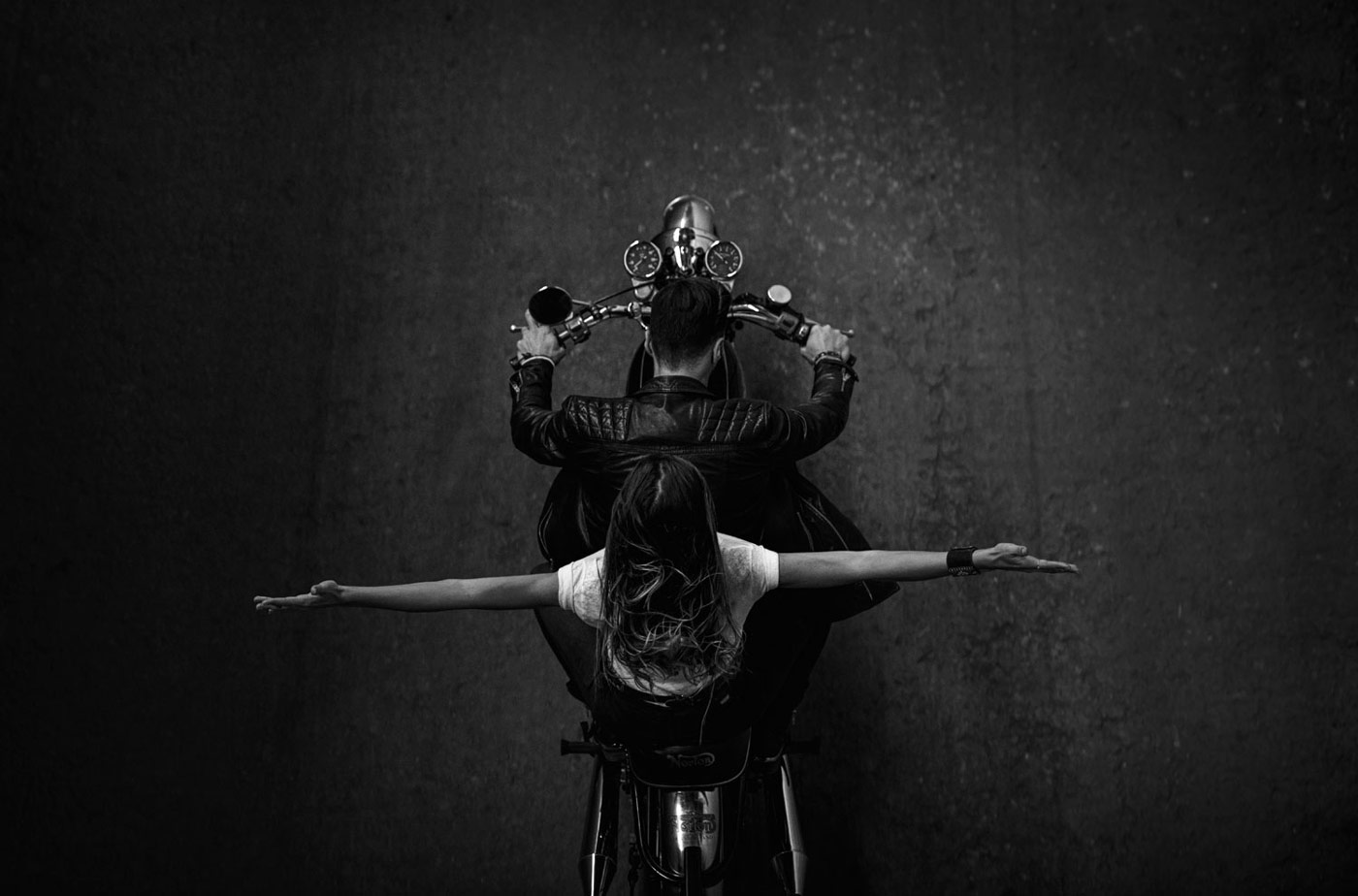 "We take these huge risks and try not to look over the side of the cliff. If we lean over, look, and see what's down there, it can be terrifying. As creatives, we become really good at convincing ourselves that everything is going to be fine…"
Was there a point when you decided to take a big risk to move forward?
Yeah. Moving here was a risk. I gave up my life in Australia to move to a country where I didn't know anyone in pursuit of a career with no established pathway to success. That said, people do far more difficult things.
The bigger risks have been moving to LA, getting the studio, and quietly but steadily increasing my overhead. It's very easy to live at home and have a digital SLR and lens and try to make a career as a photographer, but when you start investing in heavy-duty equipment, staff, and studio space, then it can get scary. At the same time, it pushes you as well. Sometimes you have to take those things on, otherwise you'll never take the next step.
Are your family and friends supportive of what you do?
Yes. I couldn't have done it without them. I am very fortunate to have parents who instilled in me the idea that I could do anything and friends who help me bring my ideas to life.
I have a small family, but they are a big inspiration to me. My mom took me to art classes and always tried to nurture that spark of creativity in me; she has always inspired a sense that I could do anything. My father, the wisest person I know, has been a really strong influence on me; he has taught me so much about business and responsibility. My brother, who is also an entrepreneur, is another inspiration. My wife, Cat, is very supportive of what I do and inspires me tremendously; I value her tastes and opinion above anyone else's. I think it's so important to have people around you who believe in you, but who also inspire you with what they are doing; I'm very lucky to have that.
My friends are also very important. Creatively, I'm a very extroverted person and I enjoy nothing more than sharing a coffee and talking ideas with others. Working with other people always elevates my ideas and concepts. I'm a big fan of collaborating with artists from other disciplines and have amazing friends around me who are very talented creative directors, designers, hairstylists, and stylists. Photo shoots and films are based on a team of people and, although I may be captaining the ship, the talents of the people around me are what really make the images something special.
Do you feel a responsibility to contribute to something greater than yourself?
Yes. That's important to me. At some point along the journey of being a photographer, you become dissatisfied with what you're trying to say, or you at least start to really think about it. You look at your images and start asking what you're going to leave behind. Working in the advertising and commercial photography space, you quickly realize that if you continue only making commercial work, then one day, you'll only leave behind billboards and advertising campaigns. Right now, I enjoy that work as I find it inspires and facilitates my personal work, but in retrospect, from a fine art point of view, it doesn't always have that deeper meaning.
I've done a number of nonprofit projects with groups like Invisible Children, the Military YMCA, and groups dealing with breast cancer and HIV/AIDS research. I'd like to do more of this, but I don't think that it's just about doing nonprofit work. That's the primary thing we think of when talking about giving back, but I've realized that giving back can also be creating a body of work that means something to people.
Last year, I went to Peru and participated in a series of ayahuasca ceremonies, which was a very introspective journey for me. During this experience, I asked myself questions about my career and work. The answer I got was that I should do the work that makes me happy because it will make others happy around me. That made me realize that creating the images I enjoy—images that tell stories and contain a deeper meaning—is also one of the ways I can give back. Overall, I'd like to leave behind a body of work that is independent of a brand or any kind of commercial interest.
Are you creatively satisfied?
I don't think we ever are, are we? Otherwise we'd give up and live on an island. I guess I am in some ways, but it's very fleeting. It's the kind of satisfaction that I get when I'm on set and an image pops up on the screen and I say, "Wow, I like it!" and then it's gone. There are points along the journey that are satisfying, but it ebbs and flows, and it's not ever something you reach. You continue to move forward in your career, trying to get that feeling back.
Recently, I've become more satisfied by doing more personal work. I've been using some of the money from my commercial work to do fine art projects, which has been fulfilling in many ways.
Is there anything you're interested in exploring in the next few years?
Yes. I'm really enjoying doing my own personal work and developing a fine art element to what I do. For example, I built the set behind us and I've been shooting a series of images in it, working on creating characters and storylines.
I also think that LA has made me more consciously inspired by cinema and TV and the stories that are told through them. Over the last year, I've been transitioning into motion picture and adding that component to what I do, which I'm enjoying. To go back to the thing about satisfaction, I've become relatively adept at photography—even though I'm always learning, I do feel quite accomplished, at least technically, at that particular skill. Now, moving into motion has opened a Pandora's box of things I don't know. I'm enjoying the discomfort of not knowing what I'm doing because I haven't had that in a long time, and it reminds me of when I first started out in photography. There is some overlap between the two mediums, though, and I'm learning quickly.
What advice would you give to a young person starting out?
Try to identify where you want to be. If you can do that, then getting there is often much easier. One of the luxuries I've had is knowing where I wanted to go, but there are a lot of people who don't know where they want to go, and they just take it day by day. There are different levels of knowing what you want, but it's important to have a general idea of where you want to go in your career.
Take advantage of your anonymity early on. You have such an opportunity to experiment and try things, but when you get to the point where there are many eyeballs on you, you need to be more guarded about what you do; you become safer in some ways. Take advantage of the fact that nobody knows you; take advantage of living at home where rent is $300 a month; take advantage of your resources and focus on your work. Determine how far you can get within those boundaries and when you've reached the end, move on.
Surround yourself with people who are better than you and who inspire you. Spend time around people you admire and would like to be like. We're the average of the people we hang around the most, and I take that very seriously. This is an important thing for me because I'm very extroverted.
Become really good at what you do because the cream rises to the top. Most of the people who are doing well and being watched by other people are actually pretty damn good at what they're doing. Come at your career from that perspective first rather than thinking about how you're going to make money. Come at your career knowing where you want to be and then work to be the best in the world. Becoming best in the world doesn't have to be the whole world; it can be your world or your city.
The last thing I would say is that it's a very saturated marketplace, so you have to be remarkable. As Seth Godin says, be the purple cow; be different. Become the only person who creates what you create in the way you do it.
You live close to your studio here in Venice. How does the neighborhood influence what you do?
That's a really good question, and it comes back to the idea of surrounding yourself with people who inspire you. I think it's very easy to do that online, and that's how I did it to begin with. I was in Perth, Australia, one of the most remote cities in the world, and the way I kept pushing myself was looking for people who inspired me online. At some point, though, there is such a tremendous asset to going out to lunch with people and seeing them face to face; it's inspiring and offers a bit of competitiveness that pushes you. Being in the same environment with other creatives makes things feel more possible, like I can do anything.
Here's an example. I moved from Australia to Encinitas, a surf town in Southern California. At some point, I realized that it was a sleepy surf town, much like Australia, and although I was meeting lots of great people, I wanted to be around more creative people who were pushing their ideas forward. Since I've moved to LA, I probably spend most of my time at the studio or my house, but knowing that there are others doing creative work here helps push me. Part of it is psychological, but at the same time, opportunities do arise. It's easy to meet people who do a lot of different things and projects might come out of that. I think we forget how much business still gets done over lunch and a handshake, especially in LA. That culture still exists and people don't give it enough credit sometimes. The Internet has been a huge part of my success, but being in a town where there are other talented people I can meet and potentially collaborate with has been such an asset.
Is it important to you to be part of a creative community?
Yeah. I'm very social and I thrive on that. I'd like to have more of a creative community. I think it's harder to have that here than someplace like New York because it's so much more spread out. People work hard here and they don't like driving in the traffic. It makes it more challenging to be part of a community, but it is important to do.
What does a typical day look like?
When we think of a professional photographer, we think of photo shoots, which I love—it's one of the reasons I do what I do. However, the professional photographer's average day is more like waking up, going to the studio, and doing all of the things involved in the buildup to shooting—all the pre-production.
Recently, my days have been spent working on my personal shoots, coming up with mood boards, working out what styling and props we're going to be using, casting, and thinking about art direction in general. I also think deeply about characters and stories and about what I want to say with a particular image. The photo shoots I do are not run and gun; there is a lot of preparation over the course of a few weeks that comes together in one or two days. Each shoot is very thought out and produced.
Aside from shoots, typical days include ordering things on Amazon Prime, (laughing) emailing, negotiating, doing creative calls, working on marketing with my agent. I also do all my own retouching and post-production work, so I could spend a week at a time in Photoshop, pushing around pixels, listening to music, and tweeting. Other weeks include traveling for photo shoots. There's no typical day, but that's what keeps me interested.
"There are points along the journey that are satisfying, but it ebbs and flows…You continue to move forward in your career, trying to get that feeling back."
What music are you into right now?
I've had an interesting journey with the music that I listen to. A year or two ago, I mostly listened to upbeat electronic music and funky, disco infused stuff like Cut Copy and Miami Horror. Then a good friend of mine, Dersu Rhodes, went to Berlin and brought back some deep house tracks, and I started listening to darker, more ambient music, like Nicolas Jaar and an assortment of German mixes. Lately I've been listening to more and more deep, dramatic film scores from people like Hans Zimmer and Thomas Newman.
I'm also part of a blog called Witness This, which is dedicated to music, style, and art; I discover a lot of new music there.
A number of my friends are DJs and are always recommending music. There's also a German DJ who puts together these amazing mixes on SoundCloud; sometimes I'll listen to those all day long. Listening to music is such an enjoyable part of the process and is a big source of visual inspiration for me. In many instances, I think that my tastes in music are mirrored in my images.
What TV shows or movies do you like?
I'm obsessed with True Detective right now. I also love House of Cards; both David Fincher's and Cary Fukunaga's directing and cinematography are incredible. Mad Men and Game of Thrones are others that I really love. It's funny to me that the first things I mention are TV series; I think the reason for that is that they explore characters more deeply than a feature film can, simply because of their breadth.
Cinema inspires my work, and I'm a real film nerd. For me, motion picture is the epitome of many art forms coming together. Some of my favorite features are Apocalypse Now, Drive, The Place Beyond the Pines—I could go on and on. One film that is lesser known, but that stands out for me is The Proposition, an Australian film with Guy Pearce that has truly moving cinematography and sound.
Do you have any favorite books?
Yeah. I buy lots of them on Amazon Prime. (laughing) Growing up, I read adventure books, especially those set against the backdrop of colonial Africa and Australia. When I worked in zoology, I read a lot of geography-related and historical books, like Guns, Germs, and Steel, which is a favorite. When I was first starting out in photography, I read every photography book that I could get my hands on, but there was a point when that ended and all I read was business, advertising, and marketing books, like stuff from Seth Godin, David Ogilvy and Malcolm Gladwell. I also enjoy books about science and philosophy from writers like Richard Dawkins and Sam Harris.
One book I really enjoyed that I mention to people a lot is Start with Why by Simon Sinek, which is about branding. So many companies start with what their product does, but in reality, they should be talking about the why; what does their brand represent? That really resonated with me and it lends itself to working in advertising and with brands.
What is your favorite food?
Sushi or Italian food. That said, I do go to lunch at the same place almost every day; it's called Flake. It's a simple, casual place that has wraps and sandwiches—and they know my name now, because I'm there all the time. (laughing) Once I find something I like, I tend to stick with it.
What kind of legacy do you hope to leave?
Oh, wow! Ultimately, I'd like to create a body of work that's independent of commercial interests, that's somewhat pure from a fine art standpoint. I'd like to leave some images behind, perhaps with a certain perspective on the world. I want my work to be a representation of myself and the stories I'm interested in. In the same way that certain directors have particular styles, I'd like to really establish and evolve my own style. I see still and motion pictures as tools to tell stories, often working in tandem, and I'd like to get to the point where I'm using whatever tool tells the story best.

"Take advantage of your anonymity early on. You have such an opportunity to experiment and try things, but when you get to the point where there are many eyeballs on you, you need to be more guarded about what you do; you become safer in some ways."